Dental implants are a wonderful way to replace missing teeth and to preserve other teeth. A dental implant is made of medical grade titanium and is designed to replace the root of a missing tooth.  While you are healing from implant surgery, the bone of the jaw fuses (integrates) with the implant.  Once healing is complete, a crown, bridge or denture will be placed on the implant(s) by your restorative dentist. For patients with existing dentures, dental implants will dramatically increase the stability of your dentures improving your confidence when eating, smiling and speaking.  For any patient, implant-supported restorations result in improved function, comfort and esthetics.
If a tooth must be removed, in some circumstances a dental implant can be placed at the time of tooth extraction. Other times the extraction site must be rebuilt with a bone graft and allowed to heal prior to implant placement.  We offer several types of bone grafting (ridge augmentation) procedures in our office including bone grafting at the time of tooth extraction, bone grafting to increase the amount of bone at an area where a tooth is already missing and maxillary sinus bone grafts. Depending upon the condition of your jawbone, the time required for treatment varies.  If bone grafting is needed, additional healing time may be necessary.  Your doctor will discuss anticipated treatment times with you at your first appointment in our office.
When you visit our office for an evaluation for dental implants, your doctor will evaluate your teeth, gums and bone.  In many cases, a three-dimensional CT scan will be necessary to thoroughly evaluate your jawbone.  The CT scan allows your doctor to determine if bone grafting is necessary in order to place an implant(s) and to assess for important structures in the jawbone such as sinus cavities and large nerves. We are proud to use the most up to date techniques and technology to replace missing teeth with esthetic, comfortable implants.
Reasons for Tooth Loss
There are a number of reasons for tooth loss including decay, root fracture, traumatic accidents, failed root canals or severe gum disease.  Regardless of the reason you have lost your tooth/teeth, you are likely a candidate for dental implants.  Even if a tooth has been missing for many years, current techniques can be used to regenerate lost jawbone and allow for implant treatment.
Dental Implant Case 1
The patient's front left tooth was lost due to a fracture of the root and was replaced with a natural-looking dental implant
Before    After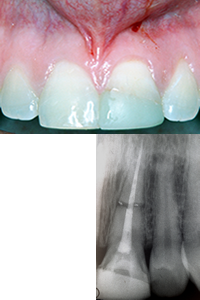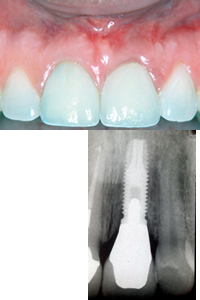 Dental Implant Case 2
The patient's front right tooth was lost and replaced with a dental implant to create a beautiful smile
Before    After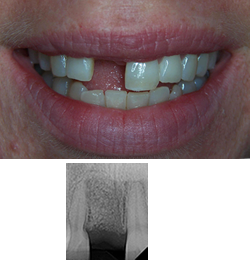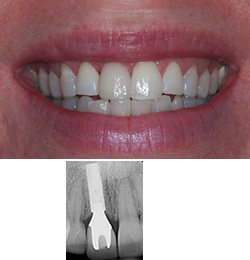 To find out if you are a candidate for an implant, call our office for an evaluation.
» Top