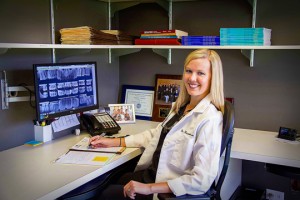 Dr. Rachel Schallhorn, a Diplomate of the American Board of Periodontology (board‐certified periodontist), has been in practice at the office of Drs. McClain & Schallhorn since 2009. She is experienced and proficient in diagnosis and treatment of periodontal disease, bone grafting procedures, dental implant placement, and a range of cosmetic and corrective periodontal procedures. As a third‐generation dental practitioner, Dr. Schallhorn brings a contemporary approach to the "chair‐side manner" and welcomes open dialog with her patients about the diversity of treatments available today.
Mind‐clearing and relaxing activities for Dr. Schallhorn include running half‐marathons, mountain biking, skiing and climbing 14ers with her husband of seven years. For fun, they frequent their own kitchen and prepare distinctive international recipes.
EDUCATION & TRAINING
Dr. Schallhorn graduated Suma Cum Laude from Capital University in Columbus, Ohio with a Bachelor of Arts degree in biology and a minor in chemistry. From the University of Michigan School of Dentistry, she received a Doctor of Dental Surgery degree. Dr. Schallhorn next specialized in periodontics at the University of Texas Health Center. While in her periodontics residency, Dr. Schallhorn completed a Masters of Biomedical Science and received comprehensive training in periodontics. Click here to view Dr. Schallhorn's complete C.V.
AWARDS & AFFILIATIONS
Dr. Schallhorn is the recipient of both academic and professional honors in the field of periodontology.
Rocky Mountain Society of Periodontists, President, 2013
5280 Top Periodontist, 2013
Kramer Scholar Award for Excellence, finalist, 2009
Balint Orban Prize, clinical research finalist, 2009
John F. Prichard Prize finalist, honorable mention, 2009
Omicron Kappa Upsilon
AAP Dental Student Award for Achievement in Periodontology, 2006
Michigan Periodontal Alumni Award, 2004
In addition to participating in research, Dr. Schallhorn is an active member of the American Academy of Periodontology,
Rocky Mountain Society of Periodontists, the Southwest Society of Periodontology as well as the American (ADA) and
Colorado Dental Associations and the Metropolitan Denver Dental Society.
Current Research:
A Randomized, Double‐Blind, Controlled, Multicenter Dose Verification Clinical Trial to Evaluate the Safety and Effectiveness of GUIDOR® Growth Factor Enhanced Bone Graft Substitute for the Treatment of Periodontal Defects 6‐months Post‐Surgery. # CLP‐ 2011‐10‐31‐1. 2012‐2014.
PUBLICATIONS & RESEARCH
Schallhorn RA. Diagnosis and management of vertical bony defects in periodontal disease. General Dentistry July/Aug 2012 60(4):290‐297.
Schallhorn RA, Patel DN, Chandrasekar B, Mealey BL. Periodontal disease in association with systemic levels of interleukin‐18 and CXC ligand 16 in patients undergoing cardiac catheterization. J Periodontol Aug 2012 81(8):1180‐1186.
Schallhorn RA. Periodontal Disease in Association with Coronary Artery Disease and InflammatoryMediators Interleukin‐18 and CXCL16. Master's thesis, University of Texas Health Science Center, San Antonio.
Lee ECY, Schallhorn RA et al. Antiandrogen‐induced cell death in LNCaP human prostate cancer cells. Cell Death and Differentiation. July 2003 10(7): 761‐771.