Our Practice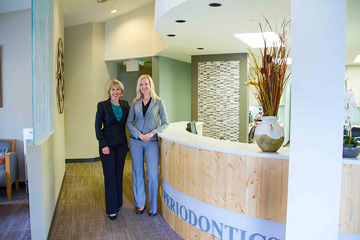 Our practice is dedicated to providing the highest quality periodontal care for our patients.  As specialists, Drs. McClain and Schallhorn have received extensive training in both surgical and non-surgical periodontal care and dental implant treatment.  Both doctors are board-certified by the American Board of Periodontology. While maintaining our focus on successful treatment outcomes for our patients, we continually strive to remain on the cutting edge of periodontal and implant therapy by attending more than 50 hours of continuing education each year. Our involvement in clinical research allows us to use the most up to date technologies and evaluate their effectiveness long term.
We are proud to have served our community and Colorado for over 40 years. Dr. Robert G. Schallhorn, who is a world-renowned periodontist, originally established our office in 1972.  His innovative research in periodontal regeneration has shaped the way periodontics is practiced today. We are happy to continue the legacy of improving the health and ultimately the quality of life for our patients.
About The Doctors
Dr. Pamela McClain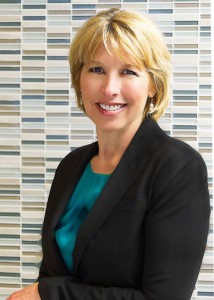 Pamela K. McClain, DDS is a highly respected periodontist in the Denver metro area—for both her vast contributions to periodontal research and her cutting edge level of care. She is a licensed periodontist in Colorado and California and is board certified as a Diplomate of the American Board of Periodontology. Dr. McClain actively collaborates with family dentists and other dental specialists and lectures on a variety of topics at interdisciplinary dental meetings and conferences locally, nationally and abroad. Dr. McClain is known internationally for her work in periodontal regeneration. She has given more than 70 professional presentations throughout the United States and in Europe and Asia.
In the office of Drs. McClain & Schallhorn, patients experience the benefit of not just understanding their treatment but truly owning their dental problem. Dr. McClain's natural warmth and open approach enhance her diagnostic and clinical skills. While research and organized dentistry are important, treating patients and improving their quality of life remains her passion.
EDUCATION & TRAINING
Dr. McClain received her B.S. in Dental Hygiene from the University of Colorado and graduated Magna Cum Laude from the University of Colorado School of Dentistry where she earned her Doctor of Dental Surgery (D.D.S.). Her post‐doctoral training in periodontics was completed at the University of California in San Francisco. She then joined her father, Dr. Robert Schallhorn, in his periodontal/implant practice in 1987. View Dr. McClain's full C.V. here.
Dr. Rachel Schallhorn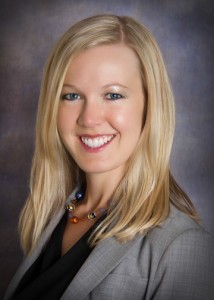 Dr. Rachel Schallhorn, a Diplomate of the American Board of Periodontology (board‐certified periodontist), has been in practice at the office of Drs. McClain & Schallhorn since 2009. She is experienced and proficient in diagnosis and treatment of periodontal disease, bone grafting procedures, dental implant placement, and a range of cosmetic and corrective periodontal procedures. As a third‐generation dental practitioner, Dr. Schallhorn brings a contemporary approach to the "chair‐side manner" and welcomes open dialog with her patients about the diversity of treatments available today.
Mind‐clearing and relaxing activities for Dr. Schallhorn include running half‐marathons, mountain biking, skiing and climbing 14ers with her husband of seven years. For fun, they frequent their own kitchen and prepare distinctive international recipes.
EDUCATION & TRAINING
Dr. Schallhorn graduated Suma Cum Laude from Capital University in Columbus, Ohio with a Bachelor of Arts degree in biology and a minor in chemistry. From the University of Michigan School of Dentistry, she received a Doctor of Dental Surgery degree. Dr. Schallhorn next specialized in periodontics at the University of Texas Health Center. While in her periodontics residency, Dr. Schallhorn completed a Masters of Biomedical Science and received comprehensive training in periodontics. View Dr. Schallhorn's full C.V. Here
Dr. Robert Schallhorn
Dr. Schallhorn, a Diplomate of the American Board of Periodontology, is originally from Wauwatosa, Wisconsin. He graduated from Marquette Dental School and was active duty in the Army from 1956 – 1969. He received his Masters of Science in Biochemistry and certificate in Periodontics from the University of California, San Francisco. Dr. Schallhorn was key in establishing the University of Colorado, School of Dentistry and was the first Professor and Chairman in the Department of Periodontics from 1969-1976.
He started a part time private practice in 1972 in Denver, Colorado and pursued a full time career in private practice in 1976.
In addition to private practice and academics he has been extensively involved in research and organized dentistry. Dr. Schallhorn's landmark studies in bone grafting around teeth has impacted the clinical practice of dentistry in this country and abroad. His research with bone graft materials, barrier membranes, growth factors and other materials is well known and has changed the way periodontics is practiced today.
Dr. Schallhorn is a member of numerous organizations and has been president of the local periodontal society (Rocky Mountain Society of Periodontist) as well as the national organization (American Academy of Periodontology – AAP) and a director and president of the American Board of Periodontology. He has served on many committees and task forces with the AAP and the American Dental Association (ADA) including his appointment as Consultant to the ADA Council on Scientific Affairs. Dr. Schallhorn has been honored with the highest awards in the field of periodontics and continues to lecture on topics related to various aspects of peridontics and regeneration in the US and abroad. His passion has always been to help patients improve their health and thus their quality of life.
Curriculum Vitae – Robert G. Schallhorn, D.D.S., M.S.
» Top
Our Staff
Patient feedback is consistently positive and our patients truly enjoy and appreciate our team members. We value having long-term relationships with our patients. Many of have been coming to see our doctors since 1972 for their periodontal/implant needs.
Our dental hygienists are extremely well educated and experienced in the field of periodontics. They are key providers of active and preventive periodontal therapy. Our hygienists attend continuing education programs numerous times per year and stay abreast of the latest techniques and technologies to help our patients achieve and maintain good oral health. Dental hygienists are your key to successful long-term care. They are excellent communicators and go the extra mile to ensure a successful program, which is the heart of prevention.
We are fortunate to have exceptional dental assistants with years of chairside experience. They not only assure that our time together in treatment goes smoothly, but are involved as oral hygiene educators, providing pre- and post-surgical care and for much of the behind the scenes support, such as sterilization, cleanliness, and infection control.
You will find the front desk staff extremely professional and capable. Their experience scheduling appointments, managing phone calls and helping with insurance assures that your visits are pleasant and enjoyable.
We feel it is critical to grow and learn and as a result continuing education is a key part of our office routine. In addition we have annual training for OSHA where infection control systems are reviewed for added safety and comfort. Our entire staff is trained regularly on emergency procedures and maintains certification in CPR.